May 11, 2021
End the Red Tape for Red Bus Lanes
The draft MUTCD rules would be a drag on improving bus service, instead of giving cities the freedom and flexibility to quickly prioritize transit on the street.
Read More
March 2, 2021
Pittsburghers Versus the Machine
After a multi-year battle, the advocacy group Pittsburghers for Public Transit (PPT) fended off the Mon-Oakland Connector, an autonomous micro-transit project championed by Mayor Bill Peduto. 
Read More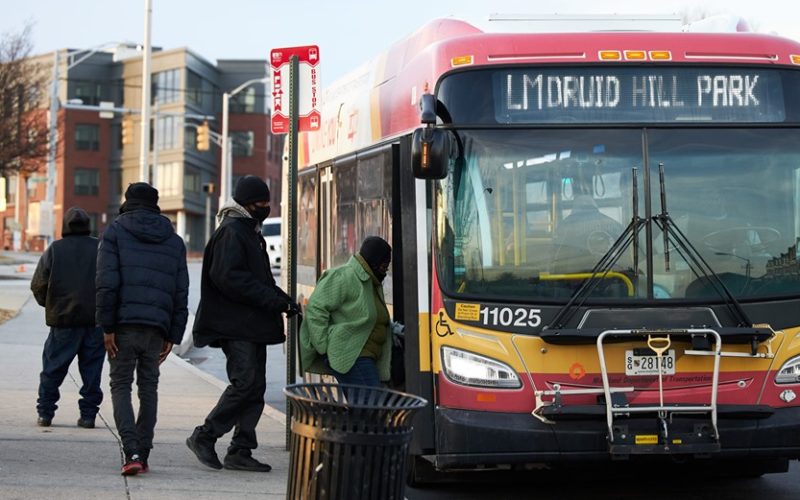 February 9, 2021
States Are Biased Toward Road Spending. Baltimore Advocates Are Out to Change That.
A new coalition of environmental, labor, and business leaders is working with elected officials in Baltimore to pass the Transit Safety and Investment Act, a bill currently moving through the Maryland state legislature. The bill would require the Maryland Department of Transportation, which oversees the Maryland MTA, to spend millions more annually on MTA maintenance and operations over the next five years
Read More
February 4, 2021
Analysis: How Long Will New Emergency Relief Funds Last for Transit Agencies?
Earlier this week, the American Public Transportation Association requested $39.3 billion in relief funding to help transit agencies maintain service and withstand the financial impacts caused by COVID-19. A plan moving through in Congress would reserve about $30 billion for transit. And the Biden administration had earlier proposed $20 billion for transit in the next relief package. What should we make of these different proposals?
Read More
January 21, 2021
Personnel Is Policy at US DOT
Compared to Congress, the power of US DOT to directly allocate transportation resources is small. But in the hands of the right team, Pete Buttigieg's department can still exert immense influence on the transportation landscape.
Read More