Governance
August 11, 2022
What's Going on With Transit Service at the Seven Highest Ridership U.S. Cities? Philly Edition
This week we're running a series that looks into what's happening with transit service in the seven highest ridership U.S. cities. Our goal with this series is to facilitate a shared understanding of the challenges agencies are facing, give riders a sense of what they can expect for the remainder of 2022, and surface ideas for how agencies can better mitigate disruptions. 
What's going on with transit service in Philadelphia?
Similar to other agencies, SEPTA reduced service between December 2021 – January 2022 during the Omicron surge. However, service levels rebounded significantly by March 2022, especially on bus (97%) and metro rail (103%.) In an interview with TransitCenter, SEPTA's Maureen Lichtner (Chief Officer, Service Planning) and Mark Cassel (Director, Service Planning) acknowledged that service restoration has not been a straight-line progression and that some service has been restored based on passenger load.
In 2021, SEPTA began the process for its Bus Revolution network redesign and in May 2022 released two possible scenarios for the Bus Revolution's eventual implementation: the first is a more aggressive plan that more dramatically alters the existing network while the second offers a more conservative update or optimization of the existing network. Both plans introduce microtransit as a service option and would implement the proposed changes in Spring 2023.
Lichtner and Cassel mentioned two challenges surrounding the Bus Revolution. First, the redesign's timing complicates short-term service changes that are not necessarily part of the redesign but would better serve riders' present travel needs. SEPTA is wary of confusing riders with too many changes over a relatively short time period, as well as giving the impression that the agency is jumping the gun on implementing Bus Revolution changes without adequate public process.
The second challenge is the continued operator shortage, which Lichtner and Cassel see as easing to an extent but potentially impacting SEPTA's capacity to roll out the operator-intensive redesign. They also mention the shortage's trickle-down effect, as supervisors who were formally operators have occasionally been called upon for spot duty operating buses. In addition, the agency has struggled with promoting operators into the supervisor and management positions that they want and have earned. Each operator that is promoted only shifts the hiring need elsewhere within the organization.
Local advocate Yasha Zarrinkelk of Transit Forward Philly says that his organization is excited for Bus Revolution's pledge to deliver a more frequent and reliable bus network. But he says that he's concerned by the limited amount of engagement that SEPTA has conducted thus far for the project, and has questions about whether the operator shortfall will allow SEPTA to fully deliver on the vision. 
"Currently, the agency has only engaged close to 7,000 riders compared to the 150,000 bus riders that utilized the bus network daily pre-pandemic. Overall awareness of the Bus Revolution project is low, specifically in suburban areas where Microtransit is being proposed [as a substitute for fixed route service]. And it is difficult to imagine a bus network that will operate efficiently with the recommendations of the Bus Revolution without a fully staffed and well-compensated operator staff."
Zarrinkelk says that Transit Forward is encouraging the Bus Revolution's project team to lengthen the timeline for feedback, and ensure that outreach and engagement are focused and targeted in areas where service will see a greater number of changes. The group also wants to see SEPTA commit to adding additional resources to the bus network as part of the redesign process.
On a positive note, SEPTA has seen early success with an employer benefit program through which SEPTA sells discounted monthly passes to large employers for distribution to employees. WHYY reported that almost half of all eligible employees at the first three employers to pilot the program have enrolled, doubling agency expectations. The University of Pennsylvania Health System alone has purchased almost 10,000 passes.
Note: The May – June spike in fixed-route surface service is due to a significant service reduction in May – June 2019–against which the data is standardized–when "a cruel convergence of planned maintenance" and a sinkhole nearly halved trolley service hours.
Read other posts in this series about LA Metro, Boston's MBTA, DC's WMATA, and Chicago's CTA.
October 26, 2023
On the Brink: Will WMATA's Progress Be Erased by 2024?
The experience of being a WMATA rider has substantially improved over the last 18 months, thanks to changes the agency has made like adding off-peak service and simplifying fares. Things are about to get even better with the launch of all-door boarding later this fall, overnight bus service on some lines starting in December, and an ambitious plan to redesign the Metrobus network. But all of this could go away by July 1, 2024. 
Read More
September 18, 2023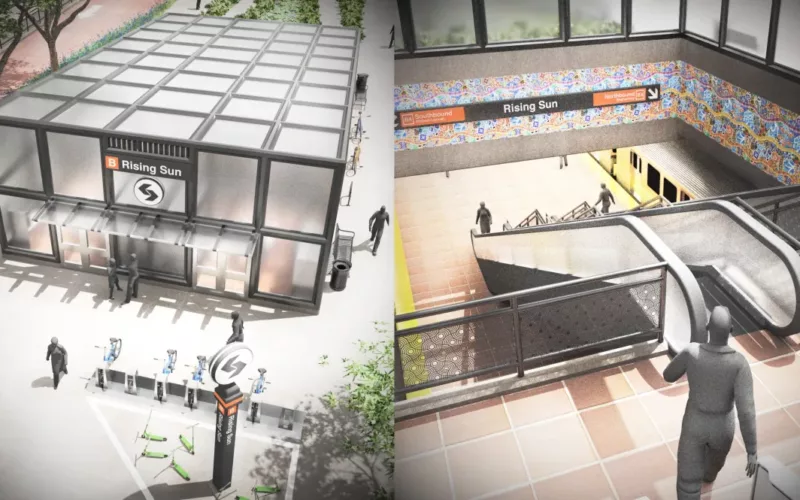 To Achieve Justice and Climate Outcomes, Fund These Transit Capital Projects
Transit advocates, organizers, and riders are calling on local and state agencies along with the USDOT to advance projects designed to improve the mobility of Black and Brown individuals at a time when there is unprecedented funding and an equitable framework to transform transportation infrastructure, support the climate, and right historic injustices.
Read More