New York's MTA just announced it would begin replacing the MetroCard with a "tap and go" card as soon as 2018, presenting a pivotal opportunity to implement a fare payment system that best serves riders. Could the MTA learn from other agencies that have already undergone this process? Last Thursday, transit experts from London, San Francisco, Oslo and Boston convened at TransitCenter to address this question, providing examples of innovative payment solutions their agencies have adopted. The takeaways were crystalline – payment reimagining, if conducted alongside smart policy, can promote equity, speed up boarding and enhance the overall rider experience while improving an agency's bottom line.
In addition to the the public panel Thursday evening, TransitCenter hosted an all-day workshop where transit officials from across the country and the four featured cities shared insights and lessons on advanced payment systems.
Transport for London's enormous system is the closest corollary to New York's, with over a billion boardings annually. Matthew Hudson, Head of Business Development at Transport for London, explained that in the early 2000s, growth and capacity problems demanded a payment solution. The agency debuted the "tap and go" Oyster card in 2003 as a business decision to "get more people through the gateline." In 2014, TFL procured a technology that allowed people to simply tap bank cards (or phones with Apple or Android Pay) to pay, a method so rapidly embraced that it now accounts for one in three boardings. The success of these initiatives allowed TfL to recently eliminate cash payments on all buses, speeding boarding. These initiatives in concert have been a financial boon to the agency, allowing them to now devote only 6% of their annual budget to revenue collection, leaving more resources to improve service.
Matthew Hudson of Transport for London on the Future of Transit Fare Payment from TransitCenter on Vimeo.
Policies to promote change and experimentation contributed to fare payment successes in San Francisco and Oslo. San Francisco's broad effort to improve local transit — the Transit Effectiveness Program or "Muni Forward" is pursuing a wide range of initiatives. The program's manager, Julie Kirschbaum of the SF Municipal Transportation Agency, explained that San Francisco introduced all-door boarding for its entire bus fleet in 2012. Bus dwell times have diminished slightly, riders are no longer crowded at the front and drivers are supportive because it limits their (potentially volatile) payment interactions with passengers. San Francisco has also made it policy to offer transit passes at free or low cost to those most in need, which has liberated the conversation from heavy concern over fare evasion.  Since the changes, reported fare evasion has decreased slightly. Kirschbaum stressed that SFMTA's focus is on "keeping the honest people honest, and making it easier for them to pay."
Julie Kirschbaum, SFMTA on the Future of Fare Payment from TransitCenter on Vimeo.
Oslo's transit agency Ruter is now operating under a city-wide mandate that population growth must be accommodated on transit rather than on roads and the ambition to make the city center car-free. The agency has responded by making the fare payment process as simple and seamless as possible to incentivize ridership. As Ruter's Payment Solutions Officer Christian Fjaer explained, they did away with payment gates throughout the system in 2008, and began using all door boarding on the entire bus fleet. As in San Francisco, "We chose to focus on customers who want to pay instead of keeping out the people who don't." This strategy ended up saving the agency money and increased the speed of the entire system. In an attempt to make paying one's fare even simpler, Ruter added a mobile phone-based ticketing system in 2012 that now accounts for 50% of the agency's revenue. 
Christian Fjaer of Ruter in Oslo on the Future of Transit Fare Payment from TransitCenter on Vimeo.
An agency's board can play a strong role in spearheading fare policy changes. Boston's MBTA is in the midst of procuring an all electronic, cashless payment system. The agency's Chief Technology Officer David Block Schachter stressed that his board's involvement has been key. Boston's disastrous winter of 2015 exposed systemic institutional and investment problems, which in turn led to creation of a fiscal control board who now visits the MBTA's office once a week. "This could be considered a bad thing but it's actually  fantastic because all five members are very dedicated to developing policy," says Block-Schachter. Unfortunately, bringing the "T" back from its low point may take years. "Fare payment innovations can be implemented in the near term – within a board member's tenure, in fact, which is a very good thing to be able to deliver." Kirschbaum echoed the importance of a board that pushes for change. "Our board members are frequent transit users, and as such, are well-versed in the sources of delay. They were pivotal in convening the necessary players to move to all-door bus boarding, and this initiative wouldn't have been possible without their sense of urgency."
David Block-Schachter of MBTA on Transit Fare Payment from TransitCenter on Vimeo.
In terms of the equity implications of fare payment changes, Block-Schachter emphasized that "because the majority of our bus riders are low income, there is nothing we can do to promote equity more than speeding up our buses." He and London's Hudson said New York couldn't skip the tap card stage and go directly to credit/debit and mobile payments because of the need to provide access to all potential riders.  Do the other cities provide lessons for the MTA when it comes to getting tap and go cards into people's hands, as well as providing them with easy opportunities to reload? Block-Schachter stressed that it's necessary to provide strong incentives for neighborhood businesses to sell the cards. "Additionally, a lynchpin of the entire system is a card's ability to go negative, which allows customers to pay at the end of their journey and decreases the amount of money agencies have to spend on installing infrastructure in far flung areas." Kirschbaum says her agency is working with existing retail gift card networks to get its Clipper cards into people's hands, as well as partnering with local organizations to hand them out in low-income corridors. "It's absolutely critical to establish standards early on for how people are able to access these services."
October 26, 2023
On the Brink: Will WMATA's Progress Be Erased by 2024?
The experience of being a WMATA rider has substantially improved over the last 18 months, thanks to changes the agency has made like adding off-peak service and simplifying fares. Things are about to get even better with the launch of all-door boarding later this fall, overnight bus service on some lines starting in December, and an ambitious plan to redesign the Metrobus network. But all of this could go away by July 1, 2024. 
Read More
October 20, 2023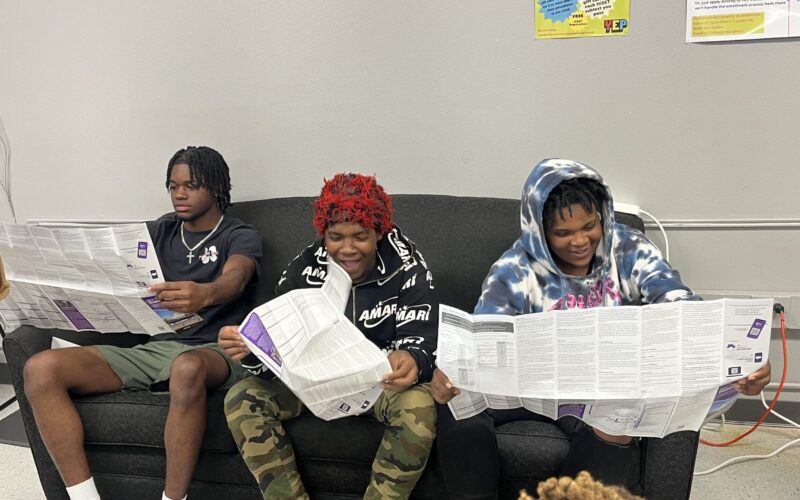 Winning Free Fares for Youth in New Orleans
Most transit agencies rely on fare revenue to fund operations, meaning many are forced into the position of needing to collect fares from the people who can least afford it. To change this paradigm, advocates across the country are fighting for - and winning - programs that allow agencies to zero out fares for youth, removing one of the largest barriers to youth ridership.
Read More