A bus crosses an intersection in downtown Minneapolis. Photo Credit: Tyler James (@firsthandaccount)
This post was written by guest contributor James Brasuell.
With the adoption earlier this year of an omnibus transportation bill, HF 2887, the Minnesota State Legislature and Governor Tim Waltz achieved a major victory for non-automobile infrastructure, joining a small group of states taking substantial first steps toward rescinding subsidies and policy mandates for automobile use while providing new funding for transit and active modes. Among HF 2887's accomplishments: creating a new sales tax in the Twin Cities to fund transit, indexing the gas tax to inflation, providing funding necessary to both a major new intercity rail line and an intra-city light rail extension, and requiring future highway projects to account for climate change impacts. Seldom, if ever, does a bill adopted in the United States accomplish so many policy goals sought by transit and active transportation advocates in one legislative package. 
The scope of HF 2887 is owed to a large and diverse coalition of transit advocates, environmentalists, community groups, and the multi-faith community called Transportation Forward, which worked toward HF 2887 over ten years of advocacy, trial runs, and coalition-building. The story about how HF 2887 passed will provide a model for advocates and lawmakers all over the country, but it's a model built on patience and persistence.
A Rare Political Alignment
The approval of HF 2887 required a Democratic trifecta in the house, senate, and governor's office, but a trifecta alone isn't enough to ensure a legislative accomplishment to rival Minnesota's. A trifecta didn't help Minnesota Democrats approve transportation innovations in 2013, for example, when legislators rejected a proposed gas tax and local sales tax for transit. 
According to Sam Rockwell, executive director of Move MN, a leading partner in the Transportation Forward coalition, regret about not creating new funding for transit in 2013 motivated legislators in 2023. "No one is taking for granted that the Democrats will still have a majority after the next election," says Rockwell. According to Peter Wagenius, legislative director of the Sierra Club North Star Chapter, another partner in the Transportation Forward effort, "We relentlessly pounded on the idea of a lost decade" to ensure that the Democratic trifecta didn't go to waste again. 
Advocates built a path of success toward HF 2887, including passing previous iterations of the bill through the House in the previous two legislative sessions. "We were ready to go from the beginning," reflects Rockwell on how the 2023 legislative session began. 
Another fortunate turn of events cleared the way for HF 2887: a new law requiring 100 percent clean energy in the state by 2040 passed just a few weeks into the session. After the 100 percent clean energy bill gained approval, coalition members found themselves "suddenly looking around and asking 'well, what can we do now?'" says Wagenius. The transportation sector is the largest source of greenhouse gas emissions in the state, according to a January 2023 report by the Minnesota Department of Commerce, making the choice to regroup behind HF 2887 obvious. 
Rockwell describes the reduction of greenhouse gas emissions and a just transition to low-carbon mobility as the primary motivating factors behind HF 2887. Given the success of Move MN and its partners in Transportation Forward, Rockwell recommends that advocates around the country marry transit with climate to achieve similar political success. "Climate works in every Democratic district," agrees Wagenius.
Other members of the Transportation Forward coalition report that climate action provided the motivation behind their advocacy for HF 2887. Eleanor Muzzy, a leader with the Young Adult Coalition of the multi-faith, multi-racial organization ISAIAH, tells TransitCenter that the organization has built a large base of support around climate in recent years, which helped the organization pivot once they had won the clean energy bill to the still to pass transportation bill. "I know that not everyone is a transit rider like me," says Muzzy, but climate helped build a statewide constituency for transit after the adoption of the clean energy bill.  
Wagenius also recommends that advocates focus specifically on funding questions while crafting the bill to build political support. So, advocates asked for commitments from  legislators to commit to the transit sales tax, with or without road funding. "It does not have to be a package deal. The climate only demands that you do one thing: fund transit," says Wagenius. Part of the focus on funding also required that lawmakers set aside policy questions for future discussions. "Ten years ago, people were having the dispute over who should spend the money simultaneously with who should raise the money," says Wagenius. "We have two years to fight over policy. We have a couple of months to fight over money." 
What's the Big Deal About HF 2887?
HF 2887 is packed with new funding programs, totaling $9 billion in all for transportation, including funding for roads and bridges and $2 billion for public transit programs. To fund all of these investments, HF 2887 creates several new revenue sources, estimated to generate $1.14 billion over the next two years, including a retail delivery fee, a transportation sales tax for the Twin Cities, a sales tax on motor vehicles, as well as a new gas tax, indexed to inflation. 
That new revenue is expected to flow to every mode of public transit, and help fund both new projects and improved operations along existing routes. "There shouldn't have to be a choice between maintenance and operations," says Rockwell. The sales tax alone is expected to generate around $450 million a year for Metro Transit, the regional transit operator in the Twin Cities. HF 2887 includes $50 million to help design and build the long-awaited Blue Line light rail extension between downtown Minneapolis and Brooklyn Park. Also included in the total is $205 million in the next two years to expand the state's intercity rail program, including $194.3 million to restart passenger rail service between Minneapolis and Duluth.  
That broad scope extends to other modes as well. The Minnesota Department of Transportation's (MnDOT) Office of Transit and Active Transportation will receive $76.4 million, a portion of which will be used to plan the state's bicycle and pedestrian infrastructure. Also included is funding for the Midtown Greenway bike and pedestrian path, a provision to decriminalize fare evasion, increased funding for transit ambassadors, and an 18-month free transit pilot for seniors and people with mobility challenges. 
As for cars, HF 2887 requires MnDOT to study emissions and include climate goals for highway projects. Along with the intercity rail project between the Twin Cities and Duluth, Wagenius describes the requirement for climate impact analysis on highway projects as one of the biggest accomplishments of HF 2887: "If we're helping people take transit and helping people drive single-occupancy vehicles in equal amounts, we're not actually making progress."
In sum, HF 2887 represents a historic achievement by the Minnesota Legislature. This is the first time that the state created new revenue for public transit, for example, and Minnesota joins just nine other states and the District of Columbia by indexing the gas tax to inflation. By providing new and permanent funding for public transit while increasing the costs of owning and operating an automobile, Minnesota has accomplished a huge step toward a generational shift in the politics of mobility.
Next Up: Michigan?
Speaking of Democratic trifectas, just across a couple of Great Lakes, the state of Michigan has a new Democratic trifecta, and the state's draft five-year transportation program promises to prioritize equity and a fair chunk of funding for the state's public transportation program ($3.7 billion and $10.9 billion for roads and bridges). The draft is currently up for public comment, so now is the chance for advocates to apply some of the lessons from Minnesota to ensure a similarly climate-forward vision for transportation in the traditional home of the automobile industry. 
October 2, 2023
LA is (Not-So) Quietly Adding a LOT of Bus Lanes
Thanks to the persistent work of local transit advocates, LA Metro is laying down 30 miles of bus lanes in 2023, pushing the total number of bus lanes in LA County to 40 miles. 
Read More
September 18, 2023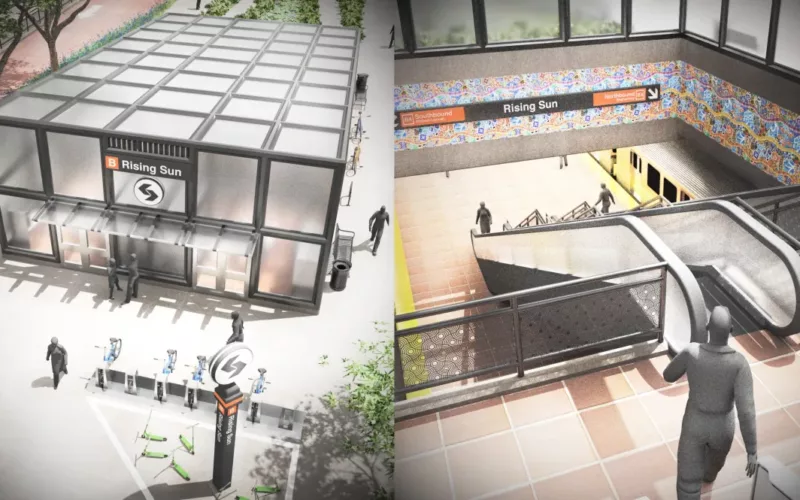 To Achieve Justice and Climate Outcomes, Fund These Transit Capital Projects
Transit advocates, organizers, and riders are calling on local and state agencies along with the USDOT to advance projects designed to improve the mobility of Black and Brown individuals at a time when there is unprecedented funding and an equitable framework to transform transportation infrastructure, support the climate, and right historic injustices.
Read More