When you think of a bus stop, what do you picture? Maybe a well-lit shelter or a bench on a square of concrete. But more likely you're imagining a forlorn pole with a sign. Can you walk to this bus stop safely? If it's alongside a multi-lane highway, or on a forgotten piece of grass behind a guard-rail, maybe not. Hopefully it doesn't look like a recent "winner" of Streetsblog's sorriest bus stop competition. Are you comfortable waiting at the stop until the bus arrives?
As TransitCenter's latest report, "From Sorry to Superb: Everything You Need to Know About Better Bus Stops" chronicles, nearly half of all public transit rides in the US begin at a bus stop. Yet our bus stops are woefully underfunded. At US transit agencies that provide bus and rail service, bus facilities receive one-tenth the funding given to rail facilities, on a per-trip basis.
The good news is that upgrading bus stops is relatively cheap and yields high dividends. Transit agencies should view bus stop improvements as low-hanging fruit for improving transit service – and growing ridership.
Research shows that stops and their surroundings factor heavily on the rider's experience of taking transit, and that great bus stops can drive ridership. Researchers at the University of Utah found that enhanced bus stops grew ridership on the Utah Transit Authority compared to ordinary stops, suggesting that riders will concentrate at better stops, or perhaps that better stops entice new riders to try the bus.
"From Sorry to Superb" examines how five regions — Minneapolis-St. Paul, Portland, Pittsburgh, Los Angeles, and New York City — manage bus stops to understand what works and what does not. The report outlines practical strategies that transit agencies can adopt to make bus stops great. And it's also useful for advocates by demystifying the typically complex and obscure chain of responsibility for bus stops. Transit campaigners can use it to identify who, when, and how to pressure for better bus stops.
In practice, responsibilities for bus stops swing between the regional transit agency, which operates bus service, and the municipalities, which own the streets. But our findings suggest that the transit agency can and should be the one leading the charge on bus stop improvements. As the dominant planner, funder, and provider of bus service across a multi-jurisdictional geography, the transit agency is the best-poised to spearhead a unified regional bus stop program that also aligns with bus service goals.
Here are a few takeaways from the report:
Transit agencies should become experts on their bus stops, and maintain information about every stop in an interactive database that can be shared publicly. They should also provide riders with an easy way to share stop conditions to alert maintenance crews such as 311 and over Twitter.
Transit agencies should make a plan to balance bus stop spacing and prioritize improvements. Increasing the amount of space between bus stops can yield enormous time savings for riders. Using ridership data and public feedback, agencies should develop guidelines for spacing and use them to communicate a vision for the entire bus stop network – instead of having fights over individual bus stops.
Agencies should convene a bus stop working group with staff from each organization involved in bus stops to coordinate stop locations, amenities, and maintenance. This group should negotiate a simple process for permitting stop amenities by unbundling transit amenities from other street furniture in approval processes, using blanket permits for stop amenities, and limiting the number of parties who give approval for stop upgrades.
Agencies should increase the budget for bus stops and create an ongoing program to guide that investment. They should identify a range of funding sources, and create an annual budget item for bus stop amenities and maintenance. And they should piggyback on planned street construction to reduce their own costs and speed up installation timelines.
Is your transit system or city doing bus stops well? Tweet us a photo of a great bus stop near you, with its location/transit agency and why you think it's great @transitcenter using #SuperbNotSorry.
September 18, 2023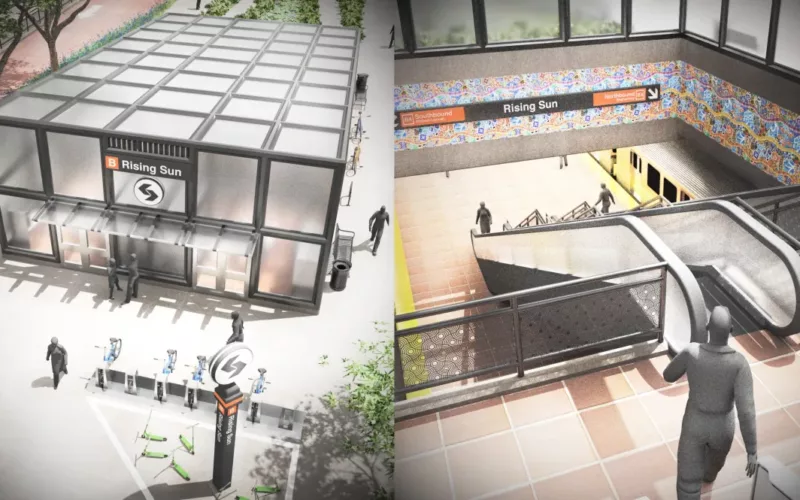 To Achieve Justice and Climate Outcomes, Fund These Transit Capital Projects
Transit advocates, organizers, and riders are calling on local and state agencies along with the USDOT to advance projects designed to improve the mobility of Black and Brown individuals at a time when there is unprecedented funding and an equitable framework to transform transportation infrastructure, support the climate, and right historic injustices.
Read More
May 25, 2022
Chicago is Long Overdue for "Better Streets for Buses"
In April, the Chicago Transit Authority (CTA) and the Chicago Department of Transportation (CDOT) announced the first effort in years to significantly improve the plight of the city's buses. Time is already running out on this rare opportunity.
Read More