Red And Purple Lines - 7th Street/Metro Center Station- Station - 7th/Metro 7M 608
Policy
March 27, 2018
The Universe of Transit Safety
Riding transit is dramatically safer than driving – you're 60 times less likely to die when riding a bus than in a private vehicle, 30 times less likely on light rail.
But of course, "safety" encompasses more than just the prospect of dying. It includes a universe of experiences, from a robbery to assault to sexual harassment. But even with this broader definition, people riding transit are still less likely to be victimized than car drivers, passengers, and owners.
And yet, the perception that transit is unsafe persists, and is often a powerful incentive for people to cut back their transit use, or stop using it entirely. For our forthcoming "Who's On Board 2018" report, we've held focus groups for transit riders in Seattle, Philadelphia, and Chicago. We asked participants about their transit-riding behavior, and a sizable portion said feeling unsafe caused them to stop riding transit. In Los Angeles, where transit ridership is plunging, 29% of former riders indicated in an LA Metro survey that they did not ride the system anymore because they didn't feel safe.
Given that crime actually went down on LA Metro last year, as it did in many transit systems, what could be feeding this perception, and how should agencies respond?
Here are a few ideas:
Ditch the scary signage. The Leadership APTA class of 2017, a professional development program for transit agency staff, did some digging into what could be driving national ridership declines. In their "Mythbusting Report," they argue that agencies could be unintentionally reinforcing a reputation for being unsafe with "If you see something, say something" campaigns.
Do a better job of telling the story. Agencies should create campaigns around positive safety numbers. In the rare instance a high-profile incident occurs, they shouldn't let the media run away with a "transit is scary" narrative. Conversely, if an agency is experiencing an uptick in crime, don't deny or downplay it. After a series of robberies last fall, BART was criticized for its perceived lack of transparency on the issue, and is still in the process of rebuilding rider and media trust.
Think about the user experience when it comes to station design. Good lighting is Transit Station 101. But where possible, the entire station should be programmed as a welcoming place that moves people. Shadowy, abandoned corners feel unsafe. When it comes to buses, constructing and maintaining shelters goes a long way towards providing the impression that there's someone actually watching over transit riders.  
Install security cameras. Detroit's Mayor Mike Duggan can be credited with turning around crime on the city's bus system, in part by installing security cameras on all buses. Metro Detroit's two bus systems have more than 2,000 cameras, which record at all times. As a result of this and other reforms, security incidents on DDOT buses are down 62% since 2013.
If security cameras aren't enough to assuage rider's concerns, explore alternatives to traditional policing. TriMet in Portland's 2018 budget includes funding for 50 "Peace Officers" – unarmed security guards trained in de-escalation strategies. 
Make it easier to report harassment: Surveys from Washington DC and New York City reveal that a majority of women have been the victim of or witness to sexual violence on transit. In DC, the Collection Action for Safe Spaces has collaborated with Washington Area Metro Authority on a public awareness campaign designed to empower victims of harassment by providing them with necessary information to report a crime – among harassed persons surveyed, those who saw the ads were twice as likely to report an incident as those who did not.
Engage with communities about the definition of "safety."  In surveys, LA Metro riders have overwhelmingly indicated they'd like to see increased LAPD presence on transit. But a much-publicized incident between an LA Metro rider and an LAPD officer shows what that can look like. As Sahra Sulaiman, a columnist at StreetsBlog LA posits, could satisfying one group of users with heightened police presence deter other riders that comprise Metro's ridership base? The answers aren't clear, but she suggests that LA Metro missed out on a major opportunity last year when it approved a policing contract between the LAPD, the Sheriff's Department, and the Long Beach Police Department without speaking to a broad array of groups of what "safety" means. If space for the conversation is created, questions like, "What is an acceptable response to "failure to comply?" "Should fare evasion be a criminal offense?" and "What does de-escalation look like in practice?" can be hashed out.
But perhaps the most important antidote to transit riders feeling unsafe has nothing to do with upping security measures – it's to run the kind of frequent, reliable transit service that enables city residents to become all-purpose riders. The more people on transit, the safer people generally feel.
October 26, 2023
On the Brink: Will WMATA's Progress Be Erased by 2024?
The experience of being a WMATA rider has substantially improved over the last 18 months, thanks to changes the agency has made like adding off-peak service and simplifying fares. Things are about to get even better with the launch of all-door boarding later this fall, overnight bus service on some lines starting in December, and an ambitious plan to redesign the Metrobus network. But all of this could go away by July 1, 2024. 
Read More
September 18, 2023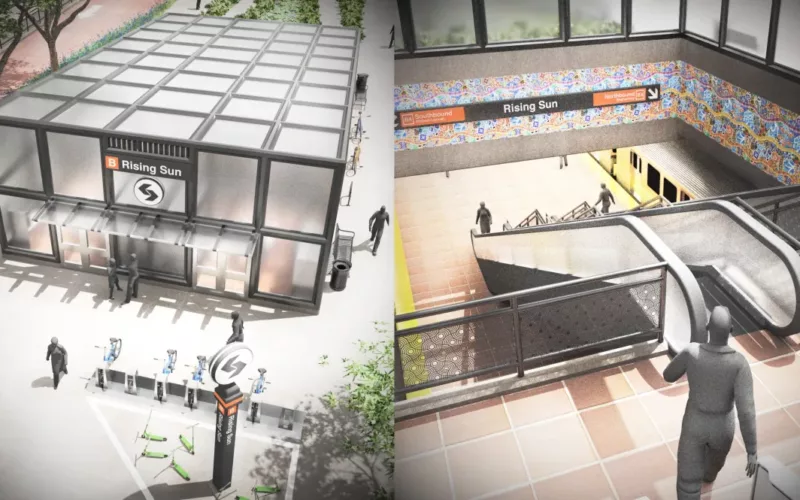 To Achieve Justice and Climate Outcomes, Fund These Transit Capital Projects
Transit advocates, organizers, and riders are calling on local and state agencies along with the USDOT to advance projects designed to improve the mobility of Black and Brown individuals at a time when there is unprecedented funding and an equitable framework to transform transportation infrastructure, support the climate, and right historic injustices.
Read More