Policy
March 13, 2018
Transit Moneyball: How Targeted Fare Policies Can Build Ridership
When it comes to increasing transit ridership, fare policy is an underutilized strategic tool. But a few transit agencies are demonstrating how it can be used to attract (or in some cases, repel) transit riders. Capital Metro in Austin reduced complexity and inequity in its system in early 2017 by returning to a standard single bus fare across all its service. King County Metro in Seattle reduced transit fares for youth on summer break. The changes resulted in ridership jumps of more than 30 percent Austin's Metro Rapid service and for youth riders in Seattle. While King County's program required a subsidy, the agency views the program as a long-term investment in ridership. At the other end of the spectrum, the recent cancellation of all-door boarding on Cleveland's Health Line BRT resulted in longer waits at stops and significant ridership decline.
Premium fares: a dampening effect
Until January of 2017, Capital Metro charged $1.75 for its Metro Rapid frequent and limited stop routes, and $1.25 for regular bus service. The fare differential added complexity and pushed riders onto the local service, leading to slower rides, empty Rapid buses, and confusion when monthly transit passes no longer enabled access to the entire bus network. Advocates complained about the two-tiered system. Metro Rapid's ridership was far below projections, and Capital Metro staff suspected the premium fare was the culprit.
In response, Capital Metro decided to equalize fares. The change was projected to cost the agency $300,000 -$500,000 a year, but a year-over-year weekday ridership increase of 37 percent following the move came close to holding fare revenue steady.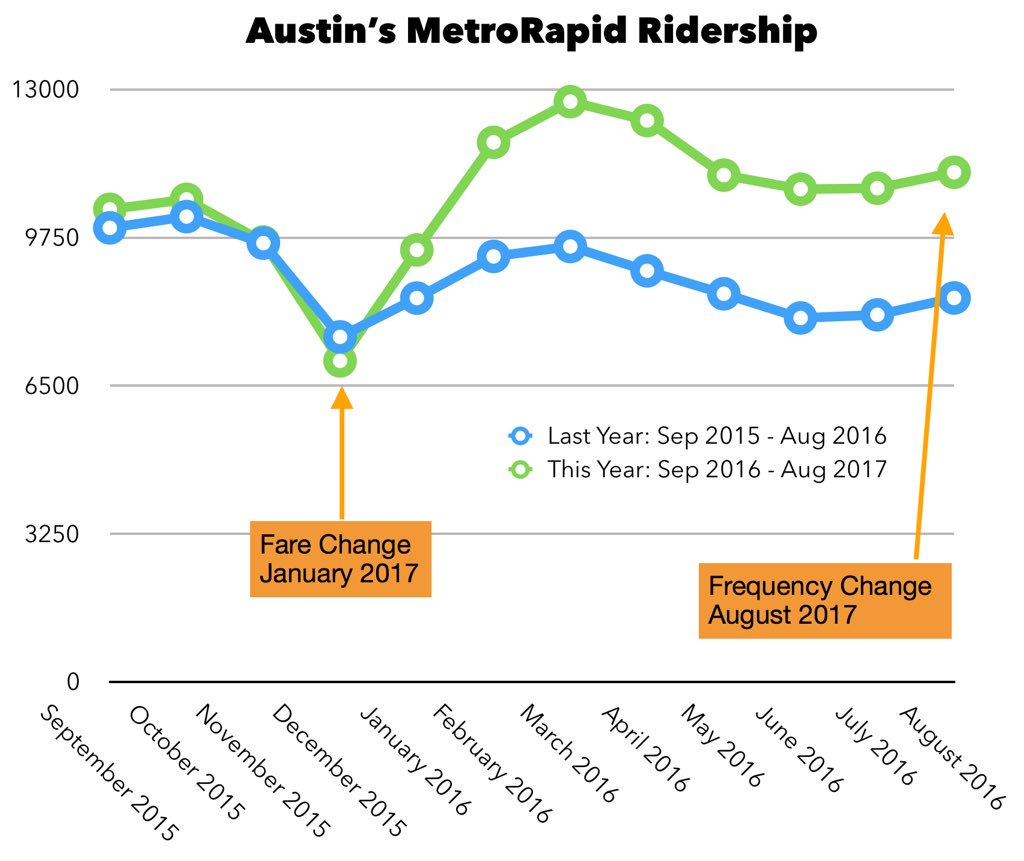 Riders with access to high-quality service like Metro Rapid are more likely to become all-purpose users, as Capital Metro's ridership bounce suggests.
Targeted fares can build a new generation of riders
In Seattle, student transit passes are subsidized by the Seattle School District during the school year, but not in summer. As a result, Seattle area transit regularly saw a 75% drop in riders under 18 in June, July and August.
At the urging of Seattle Councilmember and transit advocate Rob Johnson, King County Metro spent the spring of 2016 distributing over 11,000 youth ORCA cards, allowing students to ride for only 50 cents on buses and a dollar on light rail, a significant reduction from the usual $1.50 youth fare.
As a result, King County Metro saw a 34% increase in summer 2017 youth ridership  compared to summer 2016. The City of Seattle also decided last month to provide year-round unlimited transit passes to all of its public high school students.
King County sees the program as a strategic investment in building long-term ridership. TransitCenter's Who's on Board reports show that people who ride transit from an early age are more likely to keep riding decades later.
Payment Method Can Dramatically Affect Service Quality & Ridership
Cleveland's Health Line is one of the few legitimate examples of bus rapid transit in the United States. Since the line's start of service in 2008, riders paid prior to boarding and used all doors, minimizing time the buses spent motionless at each stop.  But a court order affecting how RTA fare enforcement is conducted ended all-door boarding last fall. Information recently released by RTA showed that the institution of one-door boarding and operator fare enforcement resulted in significant delays and a huge decline in ridership. In January of 2018, HealthLine ridership was down a full 18 percent from January, 2017.  We've written before about the emerging fare payment philosophy of "keeping the honest people honest, and making it easier for them to pay" rather than attempting to fortify transit systems against all possible fare transgressions. As on San Francisco's Muni and the Health Line under all-door boarding, we think the quality of experience and ridership will prosper under fare policies that follow this approach.
This Ridership Initiative post is authored by TransitCenter's Kirk Hovenkotter. Have another story about fare policy impacting transit ridership that you would like to tell? Recommendations for future Ridership blog posts? Get in touch at [email protected], or use #ridership on Twitter.