Image credit: Jeremy Menzies, SFMTA Staff Photographer
Operations
April 27, 2020
Rapid Adaptation to Rapid Change: An Interview With SFMTA's Jeff Tumlin
SFMTA has developed one of the most agile and forward-thinking responses to COVID-19 among U.S. transit agencies. Under the leadership of Executive Director Jeffrey Tumlin, the SFMTA has made service changes with remarkable speed. Already, the agency is planning for the recovery and thinking about ways transit can help the city bounce back.
TransitCenter recently spoke to Tumlin about how the agency quickly overhauled its transit network to meet the needs of essential workers and low-income city residents, and how San Francisco can emerge from the crisis with a dramatically improved transit system.
As the pandemic hit San Francisco, SFMTA staff closely monitored cities across Asia, as well as Seattle. "We knew that dramatic change was going to be thrust upon us and we needed to be prepared," said Tumlin. "So we looked very carefully at all of the vulnerabilities of our transportation system, especially in terms of protecting our workforce."
Out of that process emerged what Tumlin calls the agency's "radical resiliency" framework, which guided decisions about how to wind down non-essential transit service. Cable and streetcars were the first to be removed from service because transit workers were most exposed on those vehicles.
SFMTA then made the "painful" decision to shutter its rail system on March 26. "This was a tough call because trains offered the most capacity for social distancing and the most protections for operators," says Tumlin. But because only a handful of people know how to manage the intricate rail controls, having any one of them fall ill would be a recipe for a system meltdown. Staff also realized that if they were going to step up cleaning procedures on buses and bus facilities, they needed to reallocate cleaning capacity from the rail system.
This left SFMTA with the bus network, which Tumlin calls "the most resilient, adaptable way of moving people in San Francisco." But because operator availability was dwindling, management realized that maintaining reliability on the entire bus network would not be possible. To maintain adequate distance on vehicles while fielding a smaller workforce, the agency had to concentrate service where the need was greatest.
In response, on April 8, the SFMTA simplified its bus network from 89 routes to 17 routes that met the agency's criteria for essential service. Staff identified the routes that carry the majority of SFMTA's ridership and the routes that serve essential services in San Francisco. Applying SF Muni's Equity Strategy, the agency evaluated how this network would serve low-income San Franciscans, then added service in neighborhoods where people rely on transit the most.
Finally, staff made additional adjustments to ensure that no resident was more than a mile away from Muni service, with most living within half a mile from service. Tumlin says this new network is "phenomenally resilient" and it will be easy to increase service frequency on these lines as bus operator availability stabilizes.
The pandemic has led different departments within the SFMTA to collaborate in new ways, which Tumlin hopes will continue. "The hierarchical thinking and siloed thinking and turf battles that I had discovered when I first arrived at SFMTA are gone," he said.
The agency's workforce is responding to the emergency with an all-hands-on-deck approach, casting aside their job descriptions to contribute however they can. Staffers with the agency's street safety program are helping cleaners sterilize buses, bus operators are volunteering outside their shifts to transport patients to SF General Hospital, engineers and planners are putting homemade sanitizer into tiny shampoo bottles sourced from hotels. "People are basically stepping in wherever they are needed in order to get the job done," said Tumlin. "And the nature of that job changes from one hour to the next."
With the pandemic upending business as usual, SFMTA is trying out new things. On buses, Tumlin says, the agency has "abandoned schedules completely and switched to headway management, taking advantage of the headway management technology that we had bought years ago but that we were too nervous to figure out."
With headway-based bus dispatching, the agency tries to maintain consistent gaps between buses, instead of aiming for each bus to strictly adhere to its schedule. For frequent bus routes, the headway-based system should help prevent bunching and gapping — the bane of every rider waiting for the next bus. Though there have been some hiccups, Tumlin says the new system is enabling the agency to deliver greater reliability, and sees no reason to return to schedule-based dispatching.
Tumlin views the temporary disruption of traffic as a moment to secure much-needed upgrades for transit. He has said publicly that the agency should use the time while the city is hunkered down to "ensure that the essential transit network is never stuck in traffic again."
Staff are currently looking to use federal funding from the CARES Act to implement quick, low-cost improvements like transit signal priority, bus stop balancing, bus bulbs, and transit-only lanes. This kind of work can begin as soon as there is a widespread regime of testing, temperature checking, and personal protective equipment for all employees, Tumlin says.
Tumlin also plans to redesign San Francisco's bus network, which hasn't changed much since 1912. "[Transit Director] Julie Kirschbaum is thinking about how we begin bringing the bus lines back and I was like, "Julie, we're never going to bring it back the way it was before! We will never ever have the opportunity to rebuild the transit system into its new best self. We have to take advantage of this."
Tumlin hopes that thoughtful discussion of what to bring back will help San Francisco make informed, deliberate decisions about the kind of transit system the city wants. "Do we focus on very, very high frequencies on a smaller number of routes or do we spread our service out thin? If we really actually deliver high frequency on certain routes, can we introduce the idea of the transfer in San Francisco?"
A less savvy leader might be intimidated by the challenge of steering SFMTA through perhaps the most severe crisis in its history. Tumlin only assumed the role of executive director in December, after all. But he says the first few months on the job, working with staff across the agency to craft the budget, was terrific preparation for this moment.
"In order to figure out how to spend limited resources to best achieve the public good, you have to have deep clarity about your values and you need to understand trade-offs," he said. "That work has enabled us to see where the financial crisis is creating unexpected opportunities, which are much bigger than I could have ever dreamed."
October 26, 2023
On the Brink: Will WMATA's Progress Be Erased by 2024?
The experience of being a WMATA rider has substantially improved over the last 18 months, thanks to changes the agency has made like adding off-peak service and simplifying fares. Things are about to get even better with the launch of all-door boarding later this fall, overnight bus service on some lines starting in December, and an ambitious plan to redesign the Metrobus network. But all of this could go away by July 1, 2024. 
Read More
September 18, 2023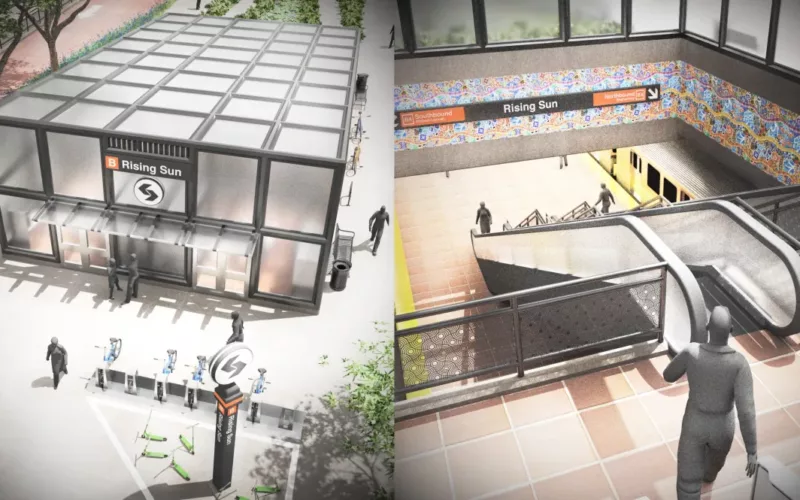 To Achieve Justice and Climate Outcomes, Fund These Transit Capital Projects
Transit advocates, organizers, and riders are calling on local and state agencies along with the USDOT to advance projects designed to improve the mobility of Black and Brown individuals at a time when there is unprecedented funding and an equitable framework to transform transportation infrastructure, support the climate, and right historic injustices.
Read More