Governance
Operations
October 26, 2020
Los Angeles Bus Riders Speak Out Against Metro's Bus Service Cuts
Last month, the board of Los Angeles Metro voted to keep bus service 20% below pre-pandemic levels until the middle of 2021 — and 8% below thereafter. Before COVID-19 struck, Metro seemed to be turning a corner on bus service with the ambitious network redesign known as NextGen. But the new budget plan under the direction of CEO Phil Washington signals a return to the days when Metro regularly overlooked the bus riders who make the vast majority of trips on its services.
Like many transit agencies, LA Metro is facing a large deficit as sales tax and fare revenues decline. But unlike most other large agencies, Metro is pre-emptively declaring long-term service cuts before the question of federal emergency aid for transit has been resolved — the agency says the 8% cuts will be the "new normal."
Metro also has much greater budget flexibility than the typical transit agency, thanks to revenue streams from the passage of voter referendums. Rather than respond to the unprecedented emergency of COVID-19 by shoring up the service riders count on every day, however, Washington has stressed his preference to spend on mega-projects in preparation for the 2028 Olympics.
Meanwhile, Angelenos continue to ride transit in large numbers, with Metro retaining 50% of pre-pandemic ridership — significantly more than most other U.S. agencies. When Metro announced the cuts, it said service would be supplemented as ridership increases — a wait-and-see approach that overlooks the increase in wait times, unreliability, and crowding for people who continue to ride.
Metro has yet to provide an analysis of how service cuts have affected essential workers, low-income riders, and commuters who don't have 9-to-5 shifts, but it's clear that they are  already bearing the brunt of cuts. Many riders cannot afford to purchase a car or switch to ride-hail apps. Cutting service, with no plan to restore it, will disrupt their lives and compound the stresses of the pandemic. 
Panfila Rodriguez, a long-time resident of Boyle Heights, relies on Metro to travel to work, run errands, and visit family. For residents like her, service cuts have cost time and upended daily travel routines. 
Before service was cut during the pandemic, Rodriguez could leave home at 7:30 a.m. and get to work in West Hollywood an hour later, in plenty of time to grab a coffee and a moment of respite before she clocked in at 9:00. Today, her commute is longer, more hectic, and much less reliable. 
All told, Rodriguez now spends more than three hours commuting each day — 80 minutes more than she did before service was reduced. "I leave 10 minutes before 7:00 a.m. to grab the Metro at 7:00 or 7:12," she said, "and then catch another bus 15 minutes before 8:00," typically arriving at 8:40. For other trips, due to schedule changes and longer wait times for the bus, she sometimes resorts to walking a longer distance to catch the Metro, or if traveling to Downtown L.A., she will just resort to walking. 
Felipe Calzada lives in Hollywood and works as a custodian. He doesn't drive and has commuted on transit for 20 years. With a shift that starts at 6:00 p.m. and ends at 2:30 a.m., reliable 24-7 service is essential to him. 
Calzada often needs three buses to get home — one missed connection can cost him an hour. "Sometimes the bus doesn't arrive at the scheduled time and I have to wait until the following hour," he said. Unreliable service can mean "sleeping less and having less time to prepare healthy meals." 
In addition to the burdens imposed on essential workers, bus service cuts carry health and safety risks as long as COVID transmission remains a risk. Reducing service will practically guarantee that riders can't meet Los Angeles County's guidelines for physical distancing on board. While widespread mask-wearing can help mitigate risk, the level of crowding with reduced service still presents a public health hazard.
Unless Metro's executive leadership reconsiders the reductions to bus service when the board convenes again in November, riders won't see the full benefits of the agency's bus network redesign, known as NextGen. Before the pandemic, NextGen was shaping up as a major service enhancement, greatly expanding access to routes that arrive at least every 12 minutes all day long. While Metro still plans to implement changes to the bus network, the improvements will be limited if the agency holds service hours at 8% below pre-pandemic levels. 
A weak NextGen plan and long-term reduction in bus service will have serious consequences for the climate and public health. Angelenos are currently "exposed to 60% more vehicle pollution than the state average and 250% more than the San Francisco Bay Area," and people who do not have access to a car in California "face exposure to pollution levels 19% above the state average," according to the Union of Concerned Scientists.
Los Angeles and the South Coast Air Basin still do not meet federal clean air standards. "Our air is so dirty it's to the point where it's illegal," says Clean Air Coalition Deputy Director Chris Chavez. "We cannot reduce those emissions and meet those targets without addressing transportation." 
The thing that worries him the most about service cuts is the impact on people who don't have access to a car. Good transit can spell the difference between breathable air and chronic pulmonary disease, convenient job access and unemployment, a city that works for riders like Panfila Rodriguez and Felipe Calzada — and a city that leaves them stranded.
October 26, 2023
On the Brink: Will WMATA's Progress Be Erased by 2024?
The experience of being a WMATA rider has substantially improved over the last 18 months, thanks to changes the agency has made like adding off-peak service and simplifying fares. Things are about to get even better with the launch of all-door boarding later this fall, overnight bus service on some lines starting in December, and an ambitious plan to redesign the Metrobus network. But all of this could go away by July 1, 2024. 
Read More
September 18, 2023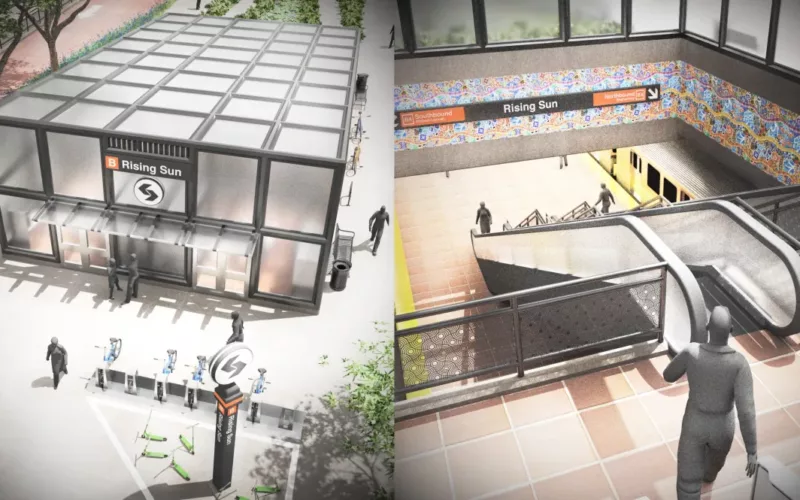 To Achieve Justice and Climate Outcomes, Fund These Transit Capital Projects
Transit advocates, organizers, and riders are calling on local and state agencies along with the USDOT to advance projects designed to improve the mobility of Black and Brown individuals at a time when there is unprecedented funding and an equitable framework to transform transportation infrastructure, support the climate, and right historic injustices.
Read More