LA Metro's Board recently voted for a variety of reforms that will decrease the role of armed law enforcement on transit.
Policy
August 31, 2020
Responding to Calls for Police Reform, LA Metro Commits to a New Community-Based Approach to Safety
As protests across the country continue to call attention to the violence Black people face at the hands of police, transit agencies have begun taking steps to address over-policing within their systems. In June, LA Metro's Board voted to approve a package of reforms to address how the agency conducts policing, emphasizing the need for a community-based approach to security and law enforcement. 
The case for police reform is especially strong at LA Metro. LA Metro spends $150 million a year on policing, and Black and brown riders receive discriminatory treatment in return. In 2016, the Labor Community Strategy Center filed a civil rights complaint against Metro, alleging that Metro "created a discriminatory system of policing that disproportionately impacts black transit riders, and that this system of criminalization of black riders constitutes a violation of civil rights."  Statistics on fare citations demonstrate that between 2012 to 2015, Black riders received over 50% of fare evasion citations while white riders only received 9 to 10%. The majority of LA transit riders are low income, and are vulnerable to discriminatory policing over fare evasion. 
Recognizing the need to meet the moment with action, the Metro Board voted this June to enact a variety of policing reforms. Effective immediately, the agency will no longer send police to respond to non-violent crimes. Additionally, a handful of Metro Board members co-sponsored a motion to establish a "Community Safety Approach To System Security And Law Enforcement," which includes the creation of a Transit Public Safety Advisory Committee. This committee will spend the next year considering reforms such as finding alternatives to armed law enforcement, expanding fare discounts, and shifting funds to homeless outreach. The proposed reforms will be finalized by June of 2021, when the Board will vote to renew Metro's 5-year police contract with the L.A Sheriff's Department, Los Angeles Police Department, and Long Beach Police Department.
This vote to reform policing was largely influenced by demands from the advocacy community in Los Angeles. The Alliance for Community Transit – Los Angeles (ACT-LA) has led the call for reductions to police contracts and reinvestment of funds in better service, community-led safety strategies, and non-violent alternatives to enforcement at Metro. And the People's Budget Los Angeles, a coalition led by Black Lives Matter Los Angeles (BLM LA), has been demanding that the City of Los Angeles divest from traditional forms of policing and invest in universal needs instead. Both campaigns have created a sense of urgency around the need to reimagine safety, and have highlighted the potential investments in local communities and public services that could be made by reducing the amount of money spent on policing. 
Ina Morton, an organizer for the People's City Council LA, a member of the People's Budget Los Angeles coalition, describes her own experience traveling on Metro and the negative impact of the overwhelming police presence on transit. Traveling on a bus at night, she would feel safest when stations had better lighting and infrastructure, not when police are sitting next to her on her commute.
She says riders immediately feel nervous whenever fare inspectors board Metro vehicles, and spoke to the "ridiculous level of criminalization that exists for not being able to pay $1.75," including citations and potential arrest. In Morton's estimation, "there's nothing about that experience that contributes to a safer Metro. The only thing it does is continue to criminalize the low-income demographic that relies on Metro to get around."
Elevating the needs of riders, and creating safety policies and strategies is a key component of ACT-LA's advocacy work. Laura Raymond, the organization's director, explains that the primary goal of their Divest to Invest campaign is to demand that Metro redirect "the nearly $800 million in multi-agency contracts and its own police money to be used for community safe alternatives, outreach programs for unhoused people, better lighting infrastructure, space for street vendors, and better bus service."  
Raymond pointed to LA Metro's partnership with People Assisting The Homeless (PATH), as evidence that successful alternatives to policing on transit are possible. The partnership relies on a team of outreach workers, including nurses, substance abuse counselors, mental health clinicians, and former homeless individuals, who connect unhoused Metro riders with safe housing. According to a report released by UCLA researcher Ma'ayan Dembo, between September through November 2019, the PATH teams were more effective at referring people to housing and social services than transit police officers. 
Raymond feels encouraged by the agency's new commitment to creating space to discuss safety concerns. But she also emphasized that it's critical for the safety committee to be empowered to influence change within Metro. One way to make this happen, she says, is for the agency to expand its Office of Race & Equity, which currently only has one staff member. 
In the coming months, ACT- LA will be setting up a transit rider committee, and continuing to host charrettes with transit riders on perception of safety. What they hear from riders will be used to inform their safety advocacy agenda in Los Angeles. ACT- LA and other coalition members will also be working to watchdog new safety strategies and the upcoming renewal of the police contract at Metro. 
As LA Metro pursues new safety approaches, Morton says it will be critical for the agency to seek out and incorporate the perspectives of current Metro riders on what actually makes them feel safe on transit. Raymond says the key to making this initiative successful is "listening to Black riders and Black women and not ending with a safety approach that centers white comfort."
October 20, 2023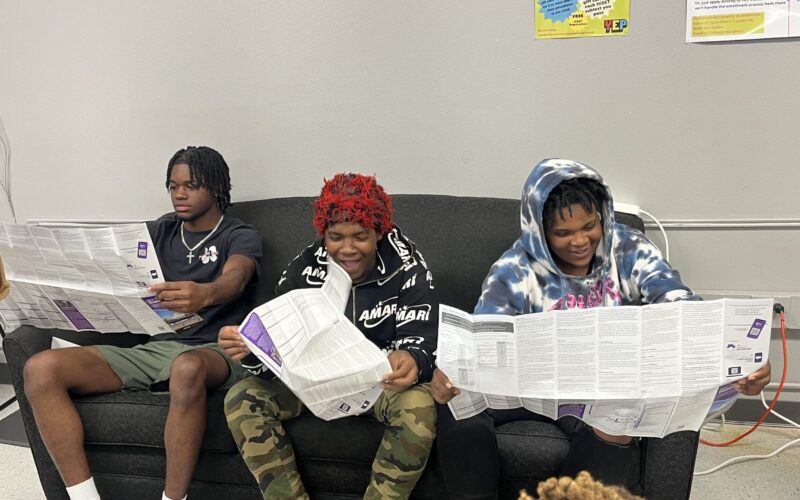 Winning Free Fares for Youth in New Orleans
Most transit agencies rely on fare revenue to fund operations, meaning many are forced into the position of needing to collect fares from the people who can least afford it. To change this paradigm, advocates across the country are fighting for - and winning - programs that allow agencies to zero out fares for youth, removing one of the largest barriers to youth ridership.
Read More
October 2, 2023
LA is (Not-So) Quietly Adding a LOT of Bus Lanes
Thanks to the persistent work of local transit advocates, LA Metro is laying down 30 miles of bus lanes in 2023, pushing the total number of bus lanes in LA County to 40 miles. 
Read More